Ably Push Notifications
Deliver native push notifications to iOS and Android devices with a simple unified API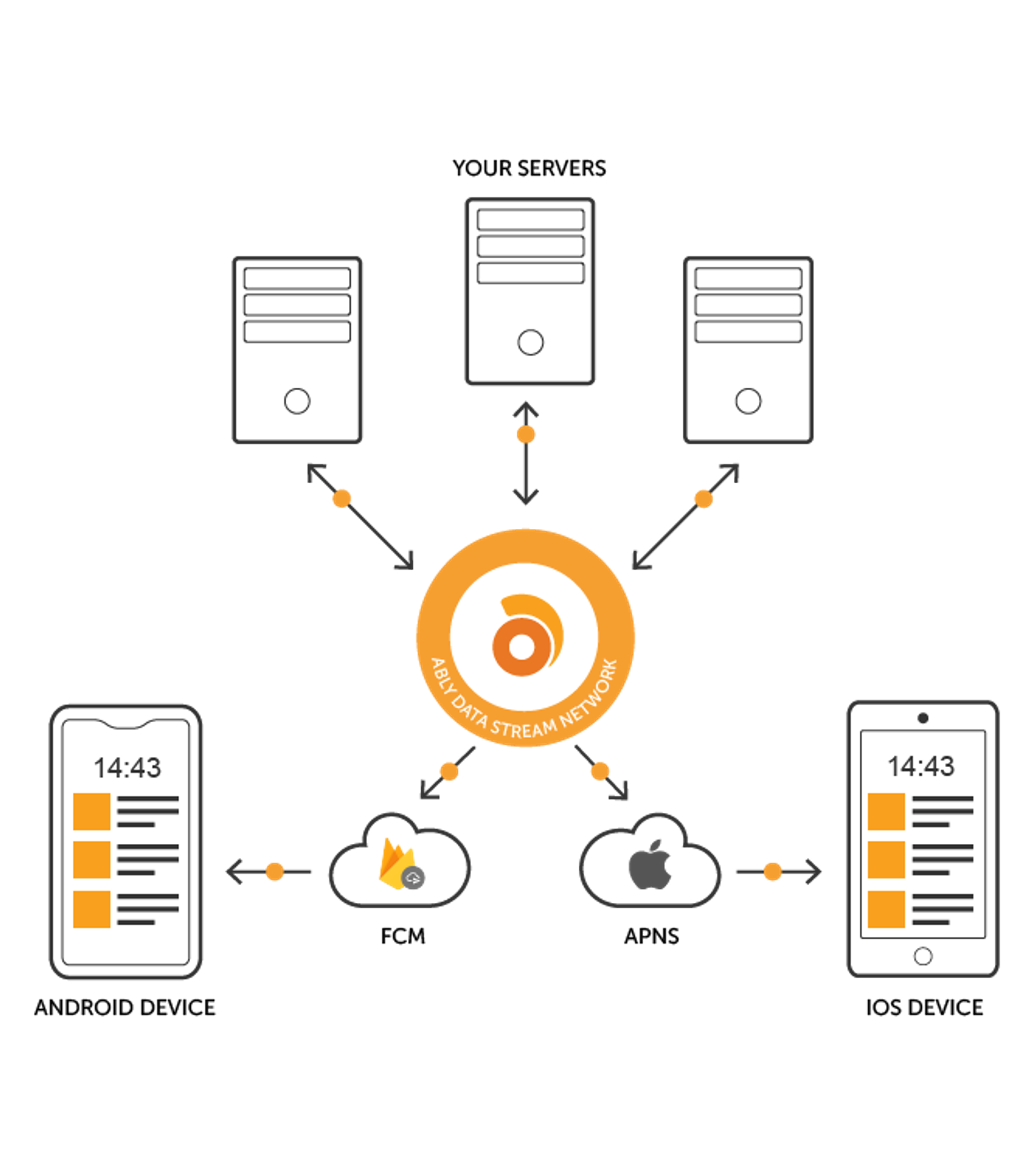 Mobile notifications made easy
In order to send battery-efficient native push notifications to iOS or Android devices, the official notification services are used by Ably. For iOS it's Apple Push Notifications Service (APNs) and for Android it's Firebase Cloud Messaging (FCM). Ably Push Notifications provides a unified API to automate registration and delivery of notifications to devices via APNs and FCM. Developers using Ably now have an easier and more uniform way to send notifications to individual devices or groups of devices registered to channels, instantly, at scale, regardless of the underlying platform.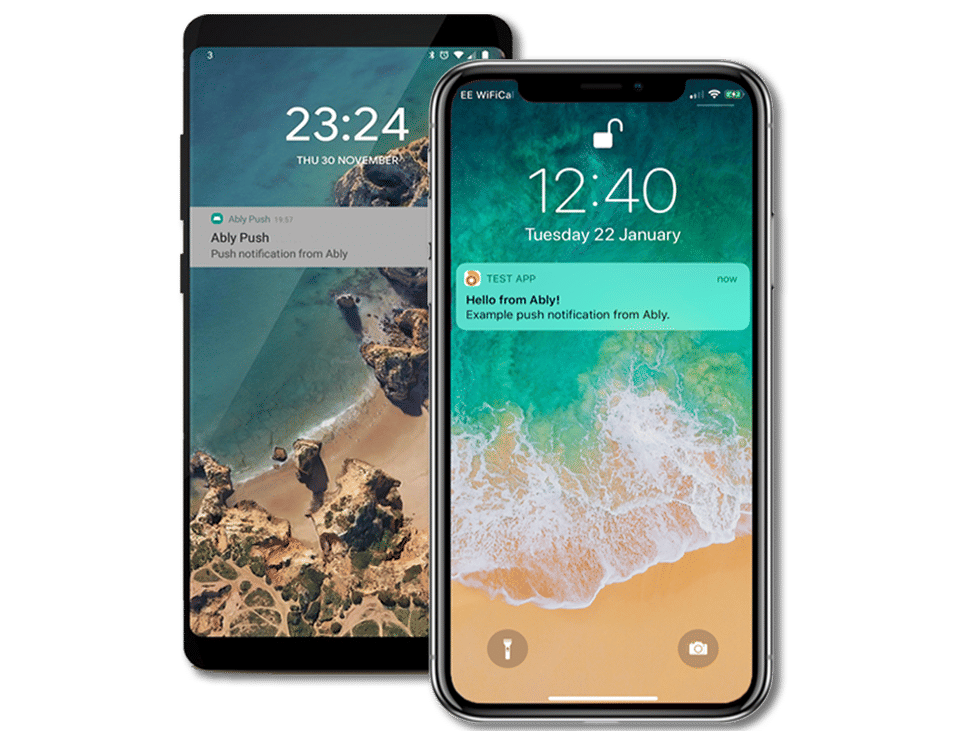 Why use native push notifications?
Unlike notifications sent over pub/sub channels, native push notifications don't require a persistent connection for delivery so you can send notifications even when your users are offline or your app is not open. This expands the number of opportunities to engage with your mobile users in a way that's more relevant, useful, and effective.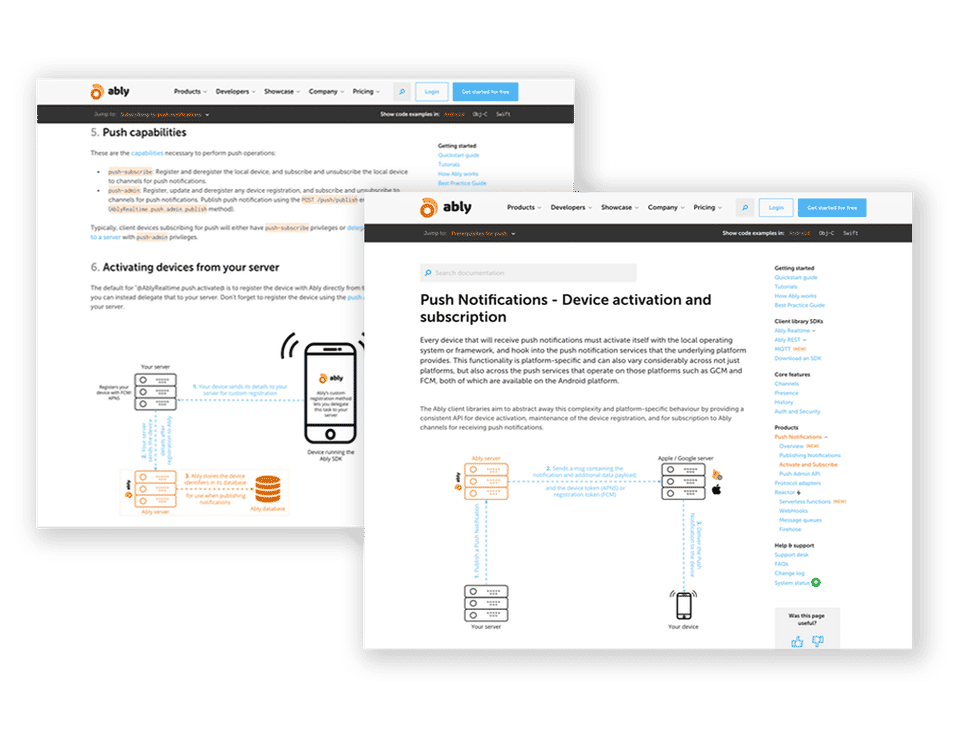 When might you use native push notifications?
When users are on the move, have inconsistent mobile connectivity, or do not have your app open, native push notifications are shown immediately to users whenever their phone is online. This might be alerts, geolocation updates, or launching background processes. Native push notifications provide battery-efficient and reliable visual notifications and a means to trigger background processing. And if information isn't timely or you want to re-engage with users you can have a notification waiting for them when they next check their smartphone.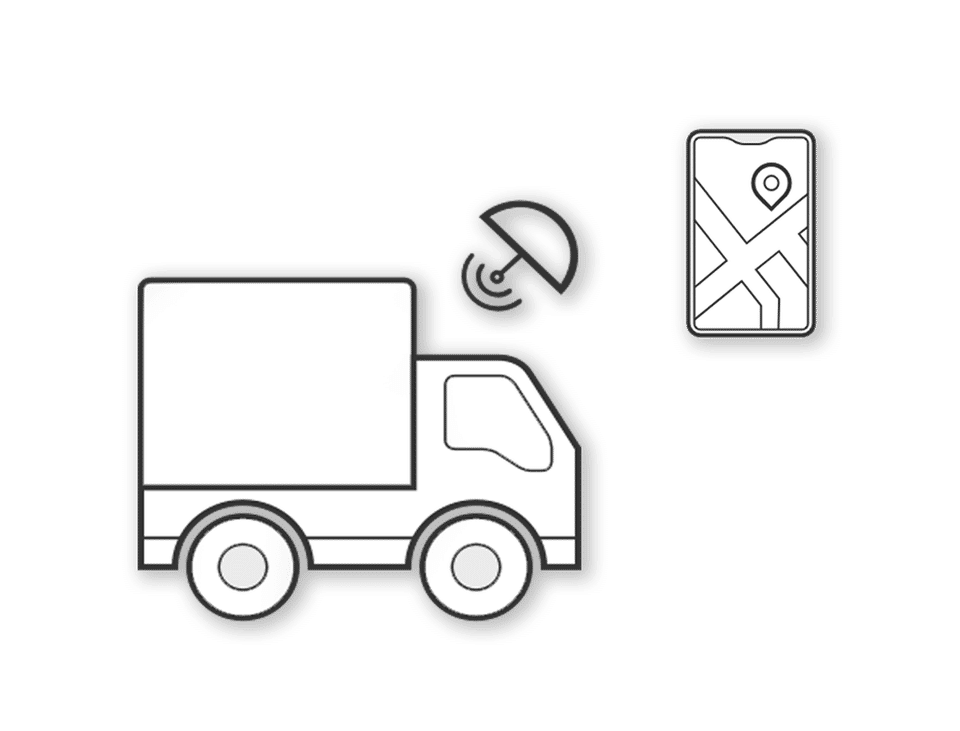 Set up Push Notifications
Ably provides the flexibility to send push notifications in two ways. Send notifications over existing Ably channels to all subscribed devices, or deliver direct to individual devices using the Ably REST Publishing API. Ably does all the heavy lifting in the background to deliver messages reliably and instantly via APNs or FCM.
Ably Push Admin API

Manage all device registrations for Push Notifications

View docs

Direct Publishing via REST

Directly publish push notifications using our REST library

View docs

Publishing using channels

Publish a push-enabled message on a channel, and we'll instantly fan-out push notifications to all push notification devices subscribed to that channel.

View docs
Get started
Send push notifications to Android devices.

Register your Android devices and send notifications within minutes

See how

Send push notifications to iOS devices

Register your iOS devices and send notifications within minutes using Swift or Objective-C.

See how

Step by step tutorials

Learn how to send push notifications using Ably with step by step tutorials

View tutorials
Simple unified API
In a few lines of code, register a device, subscribe to push notifications, and publish from a push notification from your server. Learn more from our documentation.

      AblyRealtime ably = new AblyRealtime("1WChTA.0lV0XA:dPFV7709DA0bwyTo");
/* 1. Plug in Ably to the underlying OS */
ably.setAndroidContext(context);
/* 2. Activate (register) your device with FCM */
ably.push.activate();

/* Subscribe device for native push notifications published on the alerts channel */
Channel channel = ably.channels.get("alerts");
channel.push.subscribeDevice();
    

      ARTRealtime ably = [[ARTRealtime alloc] initWithKey:"1WChTA.0lV0XA:dPFV7709DA0bwyTo"];
/* Activate (register) your device with APNs */
[ably.push activate];

/* Subscribe device for native push notifications published on the alerts channel */
ARTRealtimeChannel *channel = [ably.channels get:@"alerts"];
[channel.push subscribeDevice]
    

      let ably = ARTRealtime(key: "1WChTA.0lV0XA:dPFV7709DA0bwyTo")
/* Activate (register) your device with APNs */
ably.push.activate()

/* Subscribe device for native push notifications published on the alerts channel */
let channel = ably.channels.get("alerts")
channel.push.subscribeDevice()
    

      let ably = new Ably.Rest('1WChTA.0lV0XA:dPFV7709DA0bwyTo');
let channel = rest.channels.get('alerts');

let pushPayload = {
    notification: {
        title: 'Hello from Ably',
        body: 'Example push notification from Ably'
    },
    data: { foo: 'bar' }
};

/* Publish a message with a push payload on a channel triggering push notification delivery */
channel.publish({ name: 'notification', extras: { push: pushPayload } });
    

      AblyRest ably = new AblyRest("1WChTA.0lV0XA:dPFV7709DA0bwyTo");
Channel channel = ably.channels.get("alerts");

JsonObject pushPayload = io.ably.lib.util.JsonUtils.object()
  .add("notification", io.ably.lib.util.JsonUtils.object()
    .add("title", "Hello from Ably")
    .add("body", "Example push notification from Ably")
  )
  .add("data", io.ably.lib.util.JsonUtils.object()
    .add("foo", "bar")
  )
  .toJson();

Message message = new Message("notification", null);
message.extras = io.ably.lib.util.JsonUtils.object()
  .add("push", pushPayload)
  .toJson();

/* Publish a message with a push payload on a channel triggering push notification delivery */
channel.publish(message);
    

      let ably = ARTRest(key: "1WChTA.0lV0XA:dPFV7709DA0bwyTo")
let channel = ably.channels.get("alerts")

let pushPayload: [String: Any] = [
  "notification": [
    "title": "Hello from Ably!",
    "body": "Example push notification from Ably"
  ],
  "data": [
    "foo": "bar"
  ]
]

let message = ARTMessage(name: "notification")
message.extras = [
  "push": pushPayload
]

/* Publish a message with a push payload on a channel triggering push notification delivery */
channel.publish(message)
    

      let ably = new Ably.Rest('1WChTA.0lV0XA:dPFV7709DA0bwyTo');
let channel = rest.channels.get('alerts');

let pushPayload = {
  notification: {
    title: 'Hello from Ably!',
    body: 'Example push notification from Ably'
  },
  data: { foo: 'bar' }
};

/* Publish a message with a push payload on a channel triggering push notification delivery */
channel.publish({ extras: { push: pushPayload } });
    

      ably = Ably::Rest.new(key: '1WChTA.0lV0XA:dPFV7709DA0bwyTo')
channel = ably.channels.get('alerts')

push_payload = {
  notification: {
    title: 'Hello from Ably!',
    body: 'Example push notification from Ably'
  },
  data: { foo: 'bar' }
}

# Publish a message with a push payload on a channel triggering push notification delivery
channel.publish('notification', nil, extras: { push: push_payload })
    

      ably = AblyRest(key: "1WChTA.0lV0XA:dPFV7709DA0bwyTo")
channel = ably.channels.get("alerts")

push_payload = {
  "notification": {
    "title": "Hello from Ably!",
    "body": "Example push notification from Ably"
  },
  "data": { "foo": "bar" }
}

# Publish a message with a push payload on a channel triggering push notification delivery
channel.publish("notification", None, { "extras": { "push": push_payload }})
    

      $ably = new Ably\AblyRest("1WChTA.0lV0XA:dPFV7709DA0bwyTo");
$channel = $ably->channels->get("alerts");

$pushPayload = array(
  "notification" => array(
    "title" => "Hello from Ably!",
    body => "Example push notification from Ably"
  ),
  "data" => array("foo" => "bar")
);

# Publish a message with a push payload on a channel triggering push notification delivery
$channel->publish("notification", null, array("extras" => array("push" => $pushPayload)));
    

      # Copy and paste the curl command below into your console to try this demo now
# This will publish a message with a push payload on a channel triggering push notification delivery
curl -X POST https://rest.ably.io/channels/alerts/messages \
  -u "1WChTA.0lV0XA:dPFV7709DA0bwyTo" \
  -H "Content-Type: application/json" \
  --data \
  '{
    "name": "notification",
    "extras": {
      "push": {
        "notification": {
          "title": "Hello from Ably!",
          "body": "Example push notification from Ably"
        },
        "data": {
          "foo": "bar"
        }
      }
    }
  }'